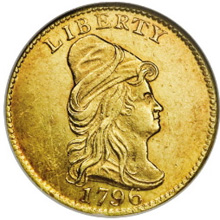 The 1796 Draped Bust Quarter Eagle with no stars on the obverse is one of the most famous gold issues of the 18th century. While every other 1796-dated gold and silver coin produced by the United States Mint included stars on the obverse, they were noticeably absent from the first quarter eagles produced.
The first 66 quarter eagles were delivered in September of 1796. These are all believed to have been of the BD-1 variety, identified by extended arrowheads on the obverse. No more than four to six pieces are still believed to be extant. BD-2, the second variety, is the most frequently encountered, and has an estimated mintage of 897 coins, although it might have been slightly lower.
Remarkably, a little over a hundred examples of the 1796 "No Stars" Draped Bust Quarter Eagle are known to exist, including about a dozen pieces in mint state grades. This represents a fairly high survival rate, indicating that perhaps the issue had a low overall circulation with some pieces saved as souvenirs.
The finest known example is graded MS65 by PCGS, and one of the most appealing pieces of all early American gold coinage. It sold on two different occasions for over a million dollars at public auction, most recently for $1,725,000 in January 2008.