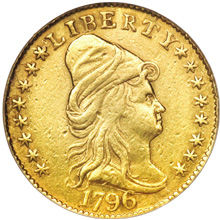 Later in the year, stars were added to the obverse design of the quarter eagle. The mintage of the 1796 Draped Bust Quarter Eagle with stars on obverse was just 432 coins, which is less than the more famous "no stars" version. The coins with stars are believed to have been delivered in mid-January 1797.
The stars were arranged with eight to the left of Liberty and eight to the left of Liberty. The total of sixteen represented the number of states in the Union at the time of minting. This issue represents an important subtype, as it's the only issue of this design with 16 obverse stars. Interestingly, all stars point to the adjacent star, a feature encountered on the 1794 silver dollar as well.
No more than 50 examples of the 1796 "Stars on Obverse" Draped Bust Quarter Eagle are believed to be still in existence, and mint state examples are extremely rare. The finest known of this issue is believed to be an example graded MS65 by NGC, which sold for $1,006,250 in January 2008.